If you've never had a website built for you, you might be wondering how much it costs to have a website built. I get this question a lot at my website design company. The short answer is, the price for a website depends on a few factors but to get it done right, it can cost anywhere from $1500 to $8000 on up. I've seen some projects over $50,000 – so yeah, it does depend on what you need done, how complex it is, and how well you want the work done.
The going rate for website design is between $40/hour and $150/hour in general.
Why does it vary so much?
Well, not all website development companies are equal and not all website project are equal either.
Do You Want It Done Good, Fast, AND Cheap?
If you've never heard of the good, fast, cheap principle, it's that you have those three items and you get to pick two. You can't have all three:
What this means is:
You can have good and cheap but not fast
You can have cheap and fast but not good
You can have fast and good but not cheap
For the most part, this principle holds true and it's something to keep in mind when pricing a website design project… or anything, really.
And can it be done cheaper, sure?
But if it's done cheaper, then your expectations (as the customer) will not be met. There will be errors/issues and you won't be happy. You get what you pay for, right?
The image above is a horse on each side, right? One side has more work done and the other side has less work done (cheaper). This example is funny but yet very true.
Using a Website Pricing Questionnaire
In order to get someone a good estimate on a new website, we like to ask them a few questions since it'll take more work to have a website that has more features. These questions kind of act like a website design cost calculator of sorts.
What is the purpose of the website?

What is the primary goal of the website?
What is the secondary goal of the website?

What features do you need the website to have?

Will there be e-commerce?
How about a home page slide show?
Do you need any forms like a Contact Us form?
How about a Google map to your location(s)?

Do you need it to rank high or will you be driving traffic to it (or both)?
How will you know that this website is a success for your business in 6 months or a year?
That last question gets our clients and prospects thinking about their business and how the website really ties in. Instead of just making a website, you should figure out how it will save you time/money or generate leads/sales for your business or organization. This is really where you start and then everything else revolves around this goal.
I actually asked about the purpose and goals 4 times in those questions because you often get different answers for each way the question is asked and this helps us (or you) figure out what the real goals of the website are. Without a goal in mind, you won't ever reach it.
Do You Need Custom Website Design?
Depending on your budget, it would be a good to get custom website design rather than use a pre-made theme so that you can be sure the website accomplishes the goals you have set.
With custom website design, you get the right things in the right places – versus having to settle with what the pre-made theme/design already has set up. Sure, more and more themes now have visual editors and a lot of flexibility but even in those cases, they can't accomplish everything a custom website design can… trust me, I've seen it a lot.
Adding custom design might be an additional $3500 or so (on the base price). You can bring this cost down by doing your own wireframes or mock design. The danger there is getting too attached to your ideas to the point where you find anything else offered just "isn't a good idea" and you miss out on taking the lead from the website design experts you've hired.
Do You Need E-Commerce?
E-commerce software like WooCommerce has a lot of great features and enough to get you started if you have simple products. The cost goes up with you get into more complex products and things like tricky shipping or taxes.
Adding and formatting a lot of products (maybe 150+) can also bring up the cost. If your shipping is complicated, that'll add cost. If your products are complex, that will bring up the cost, too. The main thing to think about with these additional, up-front charges is that if you invest the money now, you'll save lots of time in the future.
For example, if your shipping is a bit complicated but you have the website programming handle it for you, then you don't have to pay someone to do the more complex calculations needed to ship each time there's an order. Your customers are happier, too, since ordering is easy and faster.
Adding e-commerce can add an additional $1500 to $3000 on up.
Contact Forms on Websites
Having a form on a website to collect people's questions and contact info is a great idea. Doing it that way is preferred over just listing an email address for a few reasons. First, you never know if or how people have email set up on their device. Will clicking that email address link actually do anything? Maybe not. Also, with a form, you get to ask specific questions that can move the sales process forward or get you the info you'll have to ask them right away.
Contact forms are fairly cheap, like in the $150-$250 range but forms can get more expensive if you're talking about multi-page job application forms or any form with a lot of fields.
Google Maps Can Be Useful
Adding a Google map with a location or several locations so people can find and get to your store is also not too expensive now. Expect to pay $100-$200 for that.
SEO
Let's just get this right out in the open… if you're having to pay extra for on-site SEO (search engine optimization), then the website design firm you're talking to might not be thinking the right way. Let me explain.
Really about 95% or more of the website projects that happen need SEO. They need to rank well and get traffic. If your website designer isn't very "SEO-minded" with everything they do and they've having to charge extra for it, then they don't get it. They should be doing on-site SEO with every step they take to set up your website.
For example:
The software they use
The structure of the website
How they set up URLs
If they optimize images
The load speed of the website (VERY IMPORTANT)
Forcing HTTPS (SSL) URLs
Forcing one version of the domain name
And so on.
Doing on-site SEO should be included in your project – for sure. The designer you choose should do things like this naturally, so there shouldn't be any extra cost to do things correctly.
If you want additional off-site SEO work done or further on-site SEO work done, you could be looking at a contract around $1500/month or more. This will depend on how competitive your vertical market is.
Besides that, the website needs to convert website traffic into leads and sales. If you have a bad design or if this isn't even thought about and planned, you're really just lighting your money on fire. To remedy this, get a good copywriter, which can cost around $3000.
---
Total Website Cost
Here's roughly what I've discussed:
Base website project cost: $1500
Add custom design: $3500
Add e-commerce: $3000
Add a contact form: $200
Add a Google map: $200
On-site SEO: included
Off-site SEO: $1500/mo
Copywriting: $3000
If you went with everything listed here, you're looking at about $11,400 + an SEO contract of $1500/mo for 12 months ($18,000). These prices should be pretty standard in the industry and are close to what my company prices website design at. Again, it depends on the project and industry.
To get a good estimate for a project from a website design firm, provide them with things like:
A site map (list of pages and sub-pages)
What items you want on the home page
A sketch of the home page
A spreadsheet of your products
What fields you want for the contact form, who should receive those emails, and what the "Thank You" page text says
What other websites you like and why
The more details you can provide, the better, more accurate estimate you'll get. Doing the work of putting things together and getting organized will also save you some money on your project.
Why Go With a Website Design Company?
You may think that just going to a free website builder will be "good enough" and that you can just do that. It's true that some online website builders are good for some types of businesses and it makes sense for them to maybe go there to create their own website. Just remember the phrase, "just because you can doesn't mean you should."
Yes, I know how to hammer a nail but that doesn't mean I can build a house by myself, right? There's a lot more to it than that. There are things like permits, specifications, best practices, safety issues, and so on.
The same goes for website design. If your website is going to be critical to your business (getting leads, sales, etc.) then it's best to use professionals. People who have knowledge and experience setting up websites know the best practices, the things that Google wants, what to check/test, and all the little "gotchas" that anyone doing it for the first time won't know.
---
How Much Does it Cost to Maintain a Website?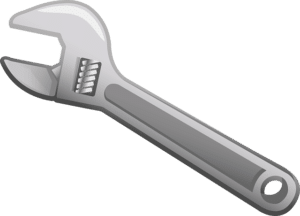 If you're only thinking about the cost to build a website, you could be in for a surprise later when you find out there are some costs involved with maintaining a website.
Since most websites today run on software like WordPress, you need to make sure you're maintaining your website or it will fall apart over time. The software must be kept current/up to date so that compatible software is updated and to protect your website against hackers.
Here's a rough idea of costs to maintain a website:
Website hosting: $20-40/mo
SSL certificate: $0-10/mo
Software updates: $50-120/mo
You're roughly looking at $70 to $170 per month plus there may be costs with paying employees or a website maintenance team to update content on the website for you.
You should have a goal to add at least one, good article to your website per month in order to maintain your Google ranking. This is an article with at least 90% original content that's interesting and original. It should be over 800 words and be well formatted with images and videos. If you have an employee that can do this, you can pay them or else hire a copywriter and website maintenance team about $400 per month to write and post a good article like that.
---
Conclusion
To build a website, you're looking at some significant costs and it may be more than you were expecting. Yes, you can get by with a website from a place like Squarespace or Wix but those sites are limiting. They rank alright but if you're serious about having a website created the right way that converts well and does its job, you really need to hire a professional website designer or design firm to help you.
The way I look at it is if you get out of it what you put into it. If you're going to spend money on advertising or have very little competition, you can easily get by with a cheap website. However, if you need your website to rank amongst somewhat fierce competition, you'll need to invest time and money into your website in order to see any results. You need to rank #1 or in the top three at least. You're also going against other businesses that have hired professionals to do that, so you should hire an expert yourself.
-Tony